Remedial Massage Therapists
Yasuko Nelthorpe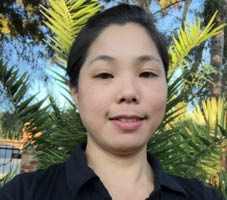 Yasuko holds Diploma in Remedial Massage and Bowen Therapy, and a qualified provider for health fund rebates in both modalities.
She is committed to achieving the best result for clients by treating presenting symptoms such as pain or discomfort and the as well as the underlying cause.
Yasuko uses her extensive knowledge of musculoskeletal assessment and palpation to determine the best possible treatment options tailored to your individual need. This includes deep tissue, various type of fascial release, muscle energy technique, neuro-lymphatic points, manual lymphatic drainage massage or trigger point therapy and an ongoing care plan to take home."
Yasuko started her career in the health treating clients with neurological disorders with Bowen therapy and Massage,
She offers her skills to wide range of client needs, such as newborn and infant and pregnancy massage, work injuries, disability and sporting injuries and support of athletes.
Why Choose Us?
Our practitioners are qualified and passionate about providing excellence of practice. We foster an environment where healing, awareness and education are supported on a physical, emotional and psychological level.